Commentary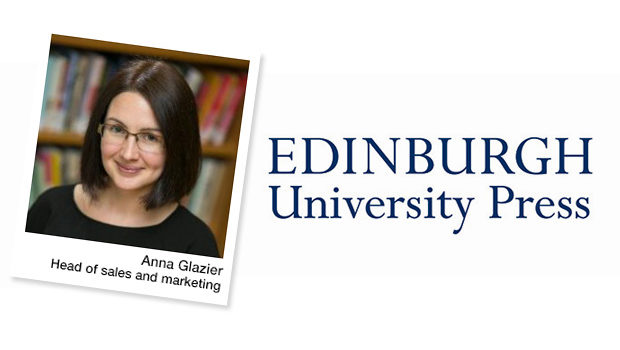 Selling direct in academia
It has been a turbulent few years in some parts of the academic sector, but the publisher at one of the oldest seats of learning, Edinburgh University, has been rising to the challenges.
Like many fellow university publishers, Edinburgh has had to face up to falling budgets in many of the academic institutions it serves. That has put a squeeze on book and journal spending, but EUP's head of sales and marketing, Anna Glazier, says sales have been well ahead of budget in the current financial year. Spread evenly across frontlist and backlist, print and digital, they show the advantage of having a broad rather than specialist academic list.
Journal sales have held up well too, and EUP is expanding rather than contracting here, having taken on two new titles this year with two more to follow in 2018. Monographs, a core of EUP's business, have been strong, despite intermittent predictions that their days are numbered. And while some institutions continue to scale back their buying, there are signs that others, especially in the US, may be stabilising their budgets.
For a lot of publishers like EUP, international sales have had a boost from an unlikely source lately: Brexit. On balance, the UK's vote to leave the European Union was greeted with dismay in academia, and there is still widespread concern about what it might mean in the long run for student numbers and research budgets. But some comfort has come from the dramatic weakening of the pound sterling that followed the Referendum last June. For institutions in Europe, the US and elsewhere, the dip in the exchange rate has made the prices of UK-published books and journals suddenly much more attractive.
Exports, already a very important element of sales in all publishing sectors, have risen as a result. Correlating cause and effect isn't always easy, but Glazier thinks there has been a link. 'We've seen spikes in sales that you could relate to the exchange rate, and some of our overseas customers have pointed out to us that they're getting a pretty good deal at the moment.'
Along with exports, another channel that is of growing interest to academic publishers is the direct to consumer route. EUP has been ahead of the curve on this, overhauling it's website with the help of Firsty early last year to provide it with richer content, better layout and full e-commerce capabilities.
D2C sales have risen as a result. 'There's been a definite increase, and that's almost solely down to the relaunch of the website,' says Glazier, who along with marketing manager, Naomi Farmer, and senior commissioning editor, Carol Macdonald, are the leads behind the development and future strategy of the new look site. 'E-commerce is something we'd been lacking, but everything came together on it last year.'
It means Edinburgh University Press is now able to direct sales enquiries that come in by phone or post to its website instead. 'That's cut out a lot of admin,' says Glazier. It has also allowed EUP to stop sending browsers away from its own website to other online retailers. And by giving potential customers access to the full EUP range, it increases the chances of upselling too. Glazier gets the impression that many customers who visit the site for one specific title end up leaving with several.
But the advantages of ecommerce go well beyond the purely financial. Selling direct means EUP can now promote direct too. Email newsletters are one way of getting marketing messages to buyers, and EUP is able to track click-throughs and identify sales that have come as a direct result of its campaigns. Events, like the 40 or so conferences EUP staff attend every year, are another. EUP now offers its authors generous discounts on direct sales, and can run imaginative, responsive campaigns, like a snap, 24-hour promotion around St Andrew's Day last November.
Selling direct can also help a publisher to create a positive impression on web browsers. It shows a professional and commercial approach, and that can be very attractive to authors in particular. For academics who are able to choose from a host of publishers to work with, the opportunity to reach readers direct can be an important differentiator. As Glazier, Farmer and Macdonald point out, it can foster good author relationships and lead to effective commissioning. 'The website is somewhere we're keen to direct potential new authors now—to give them an idea of our profile and create a positive image.'
With more content and full responsiveness, so that it presents as well on mobiles and tablets as on desktops, EUP's site has evolved into a three-pronged tool, says Glazier: 'A mix of sales, PR and commissioning opportunities.' Selling direct isn't about to dominate the publisher's business—institutional sales remain much more important across academic publishing—but it is opening up some exciting new opportunities. She adds, 'It's a natural channel for us… there's definitely potential to increase sales to academics and authors.'