Commentary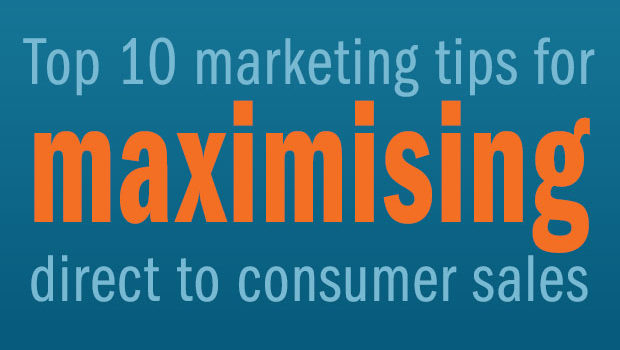 Top 10 marketing tips for maximising direct to consumer sales
Direct to consumer (D2C) sales have become an integral and increasingly important part of publishers' sales strategies over the last five years. Selling direct can generate higher margins and better customer engagement than any other channel, and getting the right infrastructure is vital.
So you've invested in the shiny new website, but what are the best marketing tools and strategies to ensure you are driving traffic to your website, engaging customers and turning those browsers into buyers?
One of the greatest benefits of selling direct is the long term relationship you build with your customer base. The information you collect on your customers, if used correctly, can help to inform future business strategy.
Here are our top 10 marketing tips to get you started on the road to a successful D2C marketing strategy:
Ensure you adopt a 360˚ approach. Whether its email, PR or social, make sure you're using all your marketing channels to promote D2C sales.
Amongst marketers email continues to reign supreme for ROI and customer engagement. Invest in a platform that provides a suite of reporting tools and allows you to set up templates easily and that's compatible with your e-commerce platform. If you're sending out regular customer emails you may want to integrate with your CMS so you can export product information automatically, rather than entering it manually.
Other important factors to consider are creating a design that's on brand, content that resonates with your audience and clear call to actions. Mailchimp, Adestra and Constant Contact all deliver good solutions, offer loads of free advice and are cost effective.
Promote your site in your communications. Why link to third party sites. I'm sure it goes without saying but link to your own site in press releases and all company communications. Include links to product pages that journalists and bloggers can include in articles and posts. You could even set up an affiliate programme to reward your top performing bloggers.
Ensure your social media has a focus on D2C. Once again link back to your own site. Encourage followers to buy direct—this will not only help you generate more profit per sale but ensure you're collecting that valuable customer data. Track your engagement with your audience. Monitor how your audience engages with your posts. What types of post receive the highest engagement. Use these findings to inform future activity.
Encourage your authors to link to your site in all their marketing activity. Provide them with regular updates on your promotional activity and encourage them to get involved to spread the word.
Plan Promotions. Set up a promotional calendar that mirrors the activity you do with your third party retailers. Again, invest as much time in your direct sales efforts as you do in your third party activities.
For those of you that think that SEO is a dark art, let's demystify that preconception… SEO or Search Engine Optimisation is the name given to activity that attempts to improve search engine rankings. In search results Google displays links to pages it considers relevant and authoritative. Authority is mostly measured by analysing the number and quality of links from other web pages. In simple terms your web pages have the potential to rank in Google so long as other web pages link to them.
Google promotes authority pages to the top of its rankings so it's your job to create pages that become authority pages. This involves writing and creating content people find useful because useful content is shared in blogs, twitter feeds etc., and over time Google picks up on these authority signals. This virtuous circle creates strong and sustainable Google rankings.
You should take the approach that every page on your site is a potential landing page or, in other words, a page that a user will arrive at directly from a Google search. With this in mind, think about the sort of compelling content and internal links you want to showcase on that page, aiming to keep the customer on your website for as long as possible, and minimise the bounce rate.
Put very simply—step one is to write and create relevant and useful content (blog posts, video, infographics, images) that uses words and phrases used by people who search for your products and services. Step two is to make it easy for those people to share and link to it. Once again, monitor which content, phrases and words generate the highest number of shares. Lastly, do more of the same!
And remember, it is likely to take 6 to 9 months to start seeing real results.
Whilst you're working on SEO you can generate more immediate results by investing in advertising—PPC and ad words, Facebook and Twitter ads or banner advertising.
Partnerships are a great way to add to your value proposition. Link up with other companies and publishers targeting a similar audience or those offering similar (not the same) content for reciprocal promotion. Partnerships can be an effective way of gaining market exposure, new distribution channels, acquiring new customers and reaching new market segments. Some high profile examples of successful publisher partnerships are the Summer of Penguin partnership with TFL to mark Penguin's 80th birthday, Heat magazine's e-book promotion with Simon and Schuster and Nosy Crow's partnerships with the British Museum and National Trust.
Use your content to your advantage. This ties in with SEO activity and as a publisher you have a competitive advantage as content owner. Think of all the unique content you own and how you can use that in your content marketing. Re-purposing content­­—whether it's text, images, video or audio—is an effective, quick and low cost way to generate relevant content for your marketing promotions and engaging your audience with free sample content.
Lastly, keep reviewing, keep innovating, developing and challenging what you're doing and why you're doing it. Be critical, be honest, keep investing and focusing on what works and changing what doesn't.