Commentary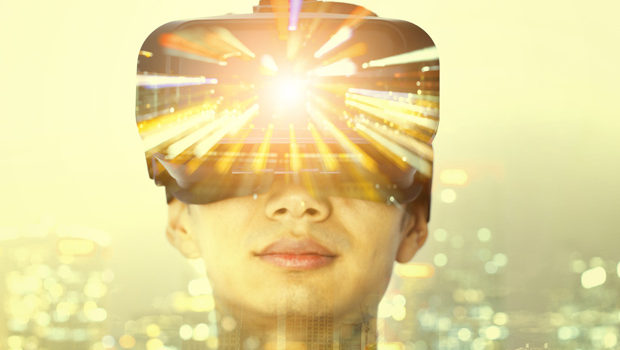 When the virtual becomes reality by Darin Brockman
For those of you who have had their heads in the sand for the last 12 months Virtual Reality, or VR as it's better known, is a 3D computer generated environment in which the user is an integral component; or perhaps better defined by Wikipedia as "a realistic and immersive simulation of a three-dimensional 360 degree environment, created using interactive software and hardware, and experienced or controlled by movement of the body".
According to Piper Jaffray Investment Bank, the market for VR content will be worth $5.4 billion by 2025 (and the Hardware component being $62 billion!). 2016 saw a huge amount of hype around VR: Frankfurt Book Fair held talks and sessions, and Google gave away 1.3 million cardboard VR handsets via the Sunday New York Times. Most major tech companies including Google, Microsoft and Mozilla have all publicly announced support for VR experiences to their desktop browsers, and Facebook bought VR company Oculas for 2 billion USD. 5 major publishers, the Guardian, the Financial Times, The Economist, Huffington Post and CNN have all invested in VR, and are already delivering VR content.
Does this mean all publishers should jump on the bandwagon?
I'm not sure, and to be honest, I'm struggling with how publishers are going to generate revenue from it. But just as with Digital Publishing, "it's better to be aware of and prepared for the change in consumer consumption than be surprised by it."
I will try and give a simple overview of where we are from a technical point of view. As we have seen over the last few years with responsive web design, the browser and the Internet has matured, thus allowing for new tools and frameworks enabling browser-based Virtual Reality to become a "reality"—sorry!
When we talk of apps we generally think of native (iOS, Android etc,) and web apps (browser based HTML5 etc,). The same applies to VR: traditional desktop/native (iOS, Android) and browser-based WebVR apps. As with traditional apps, browser-based VR allows for a single codebase to be used instead of multiple builds, and takes away the hassle of launching on multiple platforms, thus removing app store acceptance, multiple skill-sets etc.
Until recently VR support from browsers was limited: plug-ins needed downloading, frame rates were too slow compared to native apps, and a lack of VR development tools made it difficult for new programmers to create immersive browser VR content. However, today most of these hurdles have been addressed, with all the major browsers throwing vast amounts of money and time into immersive technologies.
As with any technology, standardisation is always the key. (Does anyone remember the number of ebook formats there were in 2009?!) In 2016 WebVR API version 1.0 was submitted to the W3C consortium for consideration as the standard. This will define how VR devices interact with web applications, basically outlining the rules for connecting browsers to VR devices.
So the platforms have caught up, manufactures have committed to the devices (12 million units in 2017)—but are end users actually going to be using them regularly?
Mark Zuckerburg was recently quoted: "VR development is still in its early stages. It's going to take five or 10 years of development before we get to where we all want to go." Facebook plans to invest some $3 billion into further building out the technology. While specific details were scarce, this is likely in part due to the current processing power available to much of the consumer market. For example, smartphone-powered VR headsets like the Samsung Gear VR have the best chance at large-scale adoption because of the proliferation of smartphones; computer-powered headsets provide a much more complex and immersive experience. The full article is available here.
Others are more sceptical. Stephen Masiclat, Director of the New Media Management program at The S.I. Newhouse School of Public Communications, says that it is mostly hype. "In my opinion no technology has promised more, delivered less, and destroyed more wealth than virtual reality," he says.
The barriers to entry make VR an "unlikely path to profitability" for publishers, according to Masiclat, who goes on to suggest that AR has a far brighter future within the industry, with its ability to "sift through the media noise to bring consumers content that's relevant, useful, and timely."
Carlton Books is one publisher already experimenting with AR. Their award-winning Augmented Reality books are powered by DIGITAL MAGIC™. The books are brought to life using a mobile or tablet the reader controls and customises. As with all new technologies, the industry needs  innovative and visionary publishers who aren't afraid to push the boundaries and deliver new and exciting formats that engage readers in new immersive and interactive reading experiences.
Darin Brockman is Firsty Group's CEO and Founder.