Commentary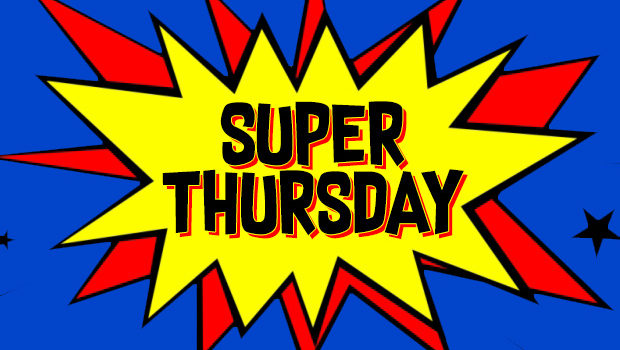 The Super Thursday effect
Editor's note:
Welcome to this month's newsletter. As we head into one of the busiest times of the year for book sales, it's clear that the importance of reading, in all its forms, has not only persisted, but potentially even increased. While we are seeing many much – anticipated releases, it's important to note the impact that effective marketing has had on the success of these, but more on this later.
In the meantime, we have been working closely with publishers over the last couple of months to help them make the most of their digital lists. To this end, you may have been seeing much more of us over social media, with our #TopTipTuesday and #FeatureFriday campaigns, as well as our #eBookWednesday campaign, which began last week and will run until December – so, plenty of opportunity to join in! As well as this, we have also started a blog – our latest post, Why Audiobooks Speak Volumes for Dyslexic Readers can be read here.
Of course no one will have missed the Publishers Association's #LoveAudio campaign, now in its fourth year, running from the 21st to the 25th September. We enjoyed seeing so many individuals and organisations all sharing their insights into the growing audio industry and celebrating this exciting format.
Darin Brockman
Firsty Group Founder & CEO
---
One of the highest profile consequences of the Covid-19 pandemic in publishing has been the concertina effect on schedules. With bookshops closed, media attention elsewhere and opportunities for events and traditional promotional activity drastically reduced, many publishers chose to delay their big spring and summer releases. It was understandable—every publisher and author wants to give each of their books the best possible chance of exposure and success—but this created a backlog of big publications.
It has culminated in a bumper 2020 edition of what has come to be known in the trade as 'Super Thursday': the day of the year when bookshops unbox the books that are competing for Christmas spends. It came earlier than usual this year, with 600 different hardbacks reportedly published on 3 September. And that's not the last of it: a second Super Thursday follows on 1 October, when nearly 800 more hardbacks make their way out into the world.
For authors, it can be dispiriting to know that you are competing against so many others for a share of sales. As author Joanna Harris wrote in The Bookseller, these Thursdays won't be super for everyone: "It's more likely to be the kind of Thursday that Douglas Adams' Arthur Dent could never get the hang of: confusing, stressful and culminating in annihilation."
It is a stressful time for publishers' publicity and marketing teams, whose usual avenues for connecting authors with readers—like literary festivals, launch parties, bookshop readings, school visits, library talks, conferences and more—have changed drastically. It is tough enough for publicists to stoke up media interest for lesser-known authors at the best of times, but with print and broadcast channels understandably consumed by Covid-19, it is harder than ever.
But so many titles arriving at once has also had positive effects—not least by attracting media attention. While some news stories were downbeat, focusing on over-supply and the risk of good titles being lost in the crowd, they also created a buzz of anticipation and a rare opportunity for collective promotion.
It has been a welcome stimulus for sales too. Nielsen BookScan reported that sales rose 11% in the week around the first Super Thursday, making it the best first-week of September on record. The Guardian noted that bookshops have been excited rather than frustrated by the flood of releases. Some said it was the best week of trade of the year so far, and a very welcome step along the road to recovery after lockdown.
Publishers have reported a spike in eBook and audiobook sales as well, especially among older readers who may still not feel comfortable enough to visit bricks and mortar bookshops. They have been boosted by some nimble digital promotions from publishers and authors, who have switched from face to face activity to a huge range of online platforms. Podcasts, live Twitter chats, Facebook streams, virtual literary festivals, YouTube clips, Instagram photos, blog tours—all these and more are now integral to modern book marketing. A lot of publicity was already moving online, but the pandemic has undoubtedly accelerated the transition—and Super Thursday gives it a focal point.
This digital work drives increasing numbers of book buyers direct to publishers' websites rather than general internet retails or bookshops. Independents in particular have been quick to adapt, and books that might not get space on store bookshelves have found a much higher profile online. The internet offers a level playing field for publishers, and agile independents are winning on it.
It has been interesting to see how digital marketing around Super Thursday has whipped up interest before publication dates, generating substantial pre-orders of print, eBook and audio versions alike. Although the bulk of these are still through online and high street shops, growing numbers are going direct to publishers' own sites, where margins are significantly better. Our Glassboxx solution for publishers has a big part to play in this, with features that help to capture digital pre-orders.
The pandemic has thrown all sorts of challenges at publishers this year, and Super Thursdays don't work to everyone's advantage. But by opening up digital marketing and direct sales, and creating moments to champion books, they have shown that crises sometimes bring opportunities too.