Blog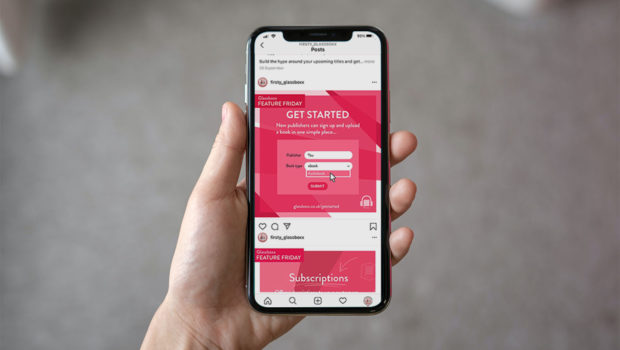 Glassboxx – Top 5 Feature Friday Highlights
This one's for our clients; both existing and prospective. You might have seen our #FeatureFriday series on social media. It's still going – with our feature highlights coming every week. If you're struggling to keep track, we've picked out the hottest ones right here.
Pre-orders
Pre-orders have become pretty vital throughout the pandemic. They give publishers the opportunity to maximise sales as they push titles before publication. We posted a newsflash when we launched this feature, which explains that books will be purchasable up to 30 days before their pub date. On that date, customers will be able to login to their app using the e-mail address they bought the book with and it'll be waiting for them. Simple, exciting and exactly what you need.
Vouchers
If you're feeling generous, you can provide readers with voucher codes. Set up single or multiple use codes that deduct either a percentage or a fixed amount at checkout. Yes – this means you can create gratis copies, another nifty feature. We can offer a few marketing tips as well: why not offer a free or discounted eBook/audiobook in exchange for signing up to your newsletter? Better still, incentivise signing up by offering discounts to your mailing list – and then shouting about it. You get the drift…
Subscriptions
This feature is perhaps perfect for the academic/educational publishers out there. Readers simply pay a recurring fee and gain a license to the titles in your subscription package. Drip feed your content in neat, little packages that your readers can't resist.
Custom Landing Pages
This feature comes hand in hand with sharing integration links across your social media. If you're sharing "Buy Now" links and product links all over your online channels, you need the shop window to look good. You can customise the landing page for any product by adding your logo and a custom background image or book cover. As with all the features, you can manage all of this in your Vendor Portal, which brings us to number five…
Vendor Portal
Welcome to the room where it happens. Manage each and every one of the features we mention from here. Sign in and you'll see Global Sales Reports, downloadable as CSV files so that you can organise your data in your own way. You can edit your profile so that readers will see your logos within the Glassboxx app. You can find product codes, upload your titles, make vouchers, you name it – whatever the task, this is mission control. So, now you know what's there, take a look around.
That's your run down of our top 5 #FeatureFriday highlights. We've got more exciting features on the way and we're working hard to deliver them very soon, so stay tuned. For now, take a look at the complete series on our social media if you want to dig deeper…